Tereza Zelenková
Dead language
3. 12. 2020 — 16. 5. 2021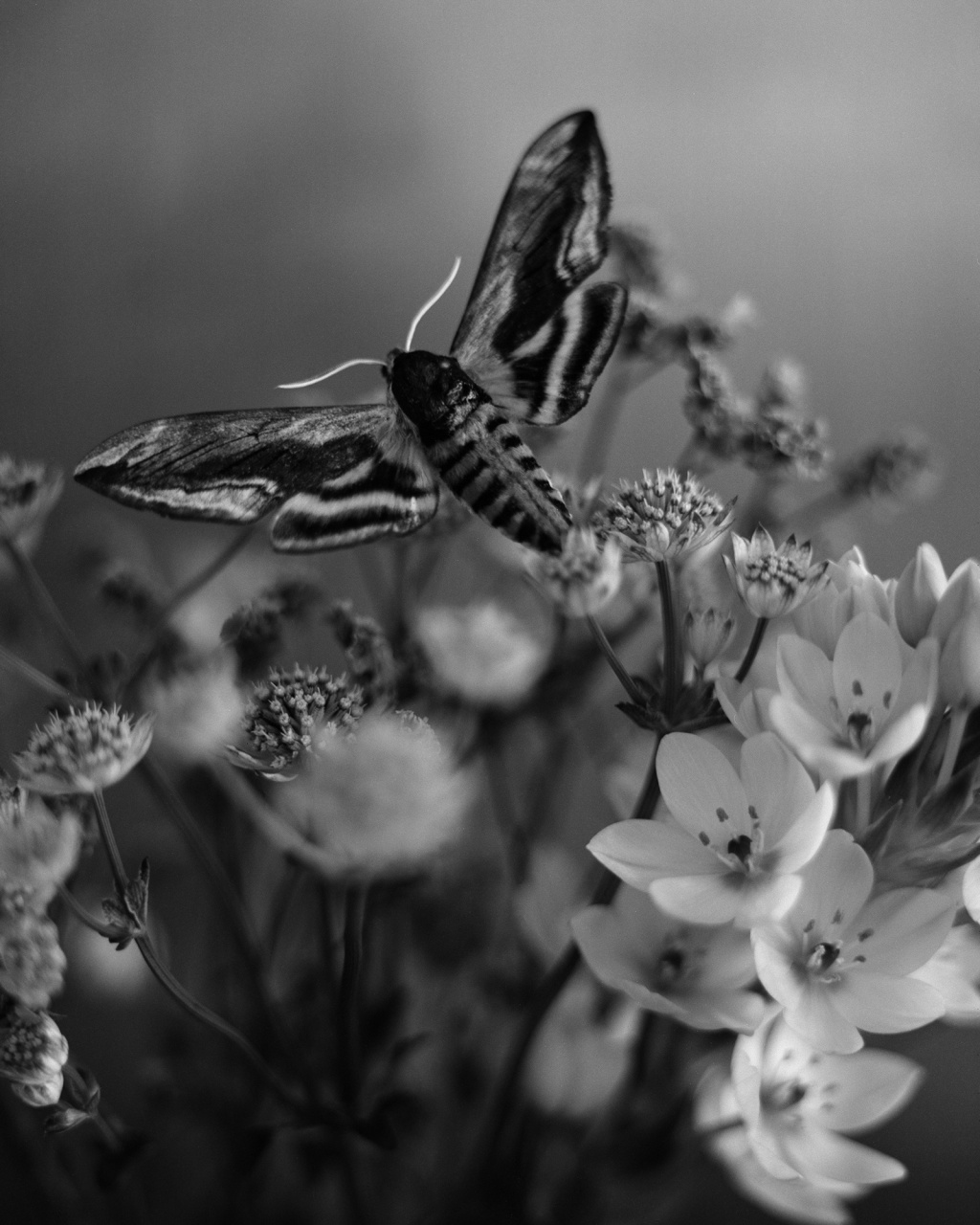 opening of the exhibition on October 15 at 6 p.m.
Tereza Zelenková's work has always drawn deeply on a certain strand of darkly imaginative literature, whether the transgressive musings of Georges Bataille or the lyrical poetry of Rimbaud and Baudelaire.
In this series, she has allowed her imagination to roam even more freely, making connections between the visual and the written, while simultaneously acknowledging a frustration with the limits of the purely photographic. In Dead Language, her solo exhibition at Josef Sudek's Atelier, Zelenková summons up the spirits of diverse writers, artists and thinkers, as well as the lingering ghostly traces of analogue photography in her deftly discursive merging of image and text. The viewer – though reader might be a more apt word here – is thus taken on a tangential journey into the realm of often esoteric interconnected ideas. In The Skull of Descartes, language itself is interrogated and meaning questioned. In The Language of Moths, the migratory journey of the death's-head hawkmoth is compared to the voyage of Count Dracula, while both are contrasted with the contemporary migrant trails and the fear and suspicion they provoke in Western culture. "The photograph is not the end product or indeed the starting point," elaborates Zelenkova of her way of working, "Instead, it is about my abiding interest in the actual subject of the photograph or the story behind it. In this instance, I am not making work that explores a single subject deeply. It is more about collecting sometimes rather fragmented information that resonates with each other, pushing the meaning beyond what is commonly expected."
Sean O'Hagan, writer, The Guardian
Tereza Zelenková works primarily with black and white analogue photography, creating series based on sometimes unexpected and poetic relationships between individual photographs. The photographic medium with all its specificities lies at the core of her practice; her work regularly exploring the often-contradictory nature of photography, as a medium that always oscillates between the realms of objective truth and subjective imagination, between rationalism and irrationalism, scientism and estheticism, and even death and immortality. Much of her images have been inspired by literature and her interest in history and mythologies surrounding varied places or people imbues her works with wide-ranging and often curious mixture of facts. Drawing on her research into photography's relationship with writing, Zelenková frequently combines images with texts in her practice.
Show more
Show less
Ateliér Josefa Sudka
Újezd 30, 118 00 Prague 1, Czech Republic
Open daily except Monday 12 AM – 6 PM
Tel.: +420 251 510 760
Admission 10 CZK
/ free for students of art schools