Tereza Příhodová
Live alone
19. 10. — 29. 11. 2012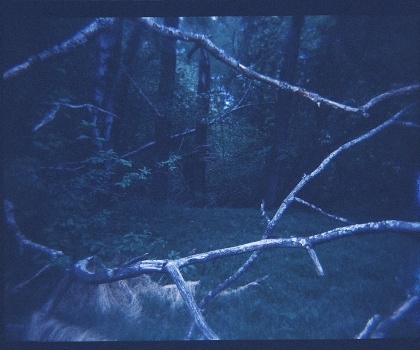 I'm not at home here, but even what is called home is not there.
For Tereza Přihodová
She says: It's night again. Actually, it's always night when I'm here. Or, rather, when several years have flown by again and I'm still here. But before that, I see you sitting somewhere and again you have a different face. But it's always you, as if you'd never gone away, nor I from you, and as if it weren't night or any years had flown by. Yet you're someone else and I think I am still the same. Just as back then when you looked different, so I am no longer there either and am somewhere else. I'm not at home here, but even what is called home is not there.

And now I'm glad it's night. Actually it's night all the time when you again look different. I have forgotten what time is, because I dug out all the caves with you, fought a hundred years' war with you, slept through several winters, and every time I wasn't looking, it again wasn't you. I know you only by what you can't help being, and every time you want me to believe you, I will. Every time I do, I also want to. The one who then goes home is me, not you. I climb a mountain, I climb trees, I move stones, and the paths behind me are overgrown. I change the darkness into light, because I have time, like everything there. I see what I want and also what I wanted. Everything is mine. I tore up the grass just as you once tore out my hair; tied up, I bury my face in the moss and smell it. I bellow with the stags. I hate you with the wolves. I flee through the water, and then, tired, fall asleep, and no longer dream of anything. I come out of the forest in your T-shirt and walk for a long time across the field. It's day and I hear shots behind me. But it is neither my pistol nor your new war. I stand in the field and you fired manure all around me. You'll die in winter, the field turns into a forest, and I love you with a different face.
Ladislav Babuščák
Show more
Show less
Ateliér Josefa Sudka
Újezd 30, 118 00 Prague 1, Czech Republic
Open daily except Monday 12 AM – 6 PM
Tel.: +420 251 510 760
Admission 10 CZK
/ free for students of art schools